Celebrating our brave kids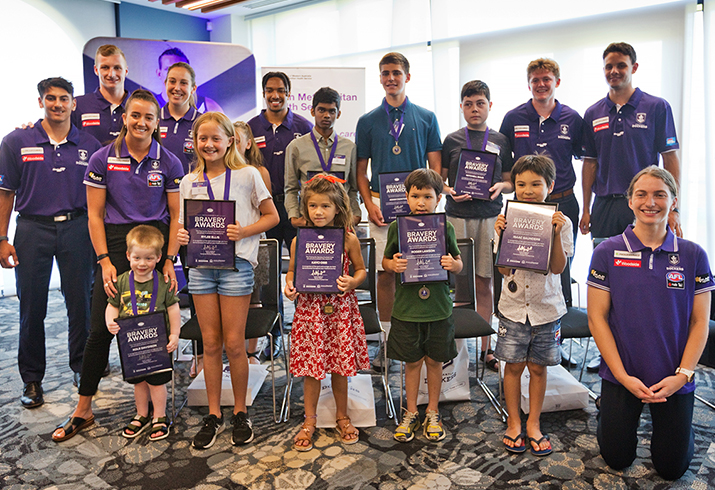 Fremantle Dockers with Bravery award recipients
Earlier this week, ten of South Metropolitan Health Service's (SMHS) young patients were formally recognised for their courage, spirit and endurance during their treatment in hospital at the Fremantle Dockers Football Club's annual AJ Diamond Club Bravery Awards.
Adam Csontos, Amit Gilbert, Isaac Saunders, Kayci Ogg, Kole Davidson, Mitchell Dhue, Roger Lawson, Rylee Ellis, Shaelea Taylor and Summer Burgess, who range in age from 3 to 15 years, were rewarded for their immense bravery whilst being treated for a variety of medical conditions and complications in 2021.
Rockingham Peel Group Executive Director Kath Smith said while these patients may have been some of their youngest at Fiona Stanley and Rockingham General hospitals, they are by far their most brave, courageous and resilient patients.
"Our paediatric nursing, medical and allied health staff, take great pride in nominating children and young adults who have been treated at our hospitals for these awards. They can confidently recall the names of these young people – some up to 12 months after their stay with us – simply because they made such a memorable impression and are deserving of this praise," Kath said.
Some of the Docker's young guns - Aine Tighe, Brandon Walker, Heath Chapman, Josh Treacy, Nathan O'Driscoll, Airlie Runnal and Joe Western - shared each recipient's story and presented them with a gold medallion, certificate and gift bag.
Here we share two stories from our young heroes:
Seven-year-old Isaac Saunders was admitted to both Rockingham General Hospital and Perth Children's Hospital a number of times this year for many tests and an operation where he was super brave, never complained, and was an absolute pleasure to look after.
Twelve-year-old Rylee Ellis had medical treatment with a difference. Earlier this year Rylee partially amputated her right index finger in a boating accident. Part of her treatment following the reattachment was leech therapy on her finger for four days.
Fremantle Docker, Nathan O'Driscoll, said he was was amazed by Rylee's bravery.
"You endured a lot while in hospital, but you found ways to make your unique treatment fun. Like naming the leeches after your friends and family!" Nathan said.
Now in its 27th year, the AJ Diamond Club Bravery Awards have been held every year since the Fremantle Dockers inception, and this year celebrated a new partnership with the Purple Hands Foundation (external link).
Keep up to date with our news and achievements