Our hospitals
At SMHS we deliver quality, safe and effective hospital services within a catchment area stretching 3,300 square kilometres across the southern half of Perth.
If the services you require are not available at your hospital, you will be referred or transferred to another hospital that can meet your needs. This may be another facility in the south metropolitan area or elsewhere in Perth, depending on your needs.
All of our hospitals work together. As a result, you may receive your health care at more than one hospital. For example, you may receive your initial surgery at a tertiary hospital and your follow-up care at another hospital closer to your home.
Be assured, regardless of the location, you will be referred to the right hospital to meet your needs.
Learn more about our hospitals
Fiona Stanley Fremantle Hospitals Group
Fiona Stanley Fremantle Hospitals Group (FSFHG) comprises:
Fiona Stanley Hospital
Fremantle Hospital
Rottnest Island Nursing Post.
Fiona Stanley Hospital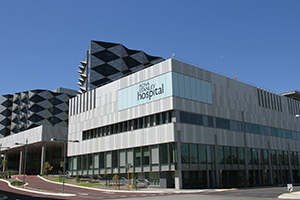 Fiona Stanley Hospital is the major tertiary hospital in the south metropolitan area and offers comprehensive health care services to adults, youth and children. It has 783 beds and offers:
acute, general and specialist medical and surgical services
subacute services including rehabilitation and aged care
comprehensive cancer services
State adult burns unit
State rehabilitation service including ventilator dependent quadriplegic service and spinal outreach service
State heart, lung and bone marrow transplant service
emergency and intensive care
mental health
maternity, paediatric and neonatal services.
Read more about Fiona Stanley Hospital (external site).
Fremantle Hospital
Providing specialist hospital services, Fremantle Hospital plays a vital role in supporting the tertiary services of Fiona Stanley Hospital and in the ongoing delivery of services to patients within the south metropolitan catchment.
It offers a range of services including mental health, aged care, and elective surgical services in the following specialties:
general medicine
geriatric medicine, including subacute services and rehabilitation
general surgery
orthopaedics
plastic surgery
specialised hand surgery
ear, nose and throat (ENT)
gynaecological
dental and maxillo-facial
endoscopy
ophthalmology
urology
vascular.
Rockingham Peel Group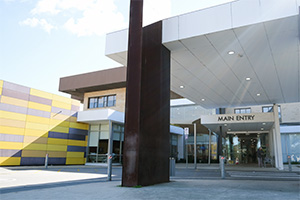 Rockingham Peel Group comprises:
Rockingham General Hospital
Murray District Hospital
Mandurah Community Health Centre
Kwinana Community Health
Rockingham Community Mental Health Service
Peel Community Mental Health Service.
Rockingham General Hospital
As a general hospital with an emergency department, it supports the following inpatient services:
acute and general medicine
geriatric medicine
palliative care
paediatrics
obstetric and neonatal services
surgical including ENT, gastroenterology, general, gynaecology, orthopaedic, plastics and paediatric (general)
intensive care
psychiatry (adult and older adult), including electroconvulsive therapy.
Murray District Hospital
As a small specialist hospital, Murray District Hospital located in Pinjarra provides aged care services, particularly to people awaiting rehabilitation and end-of-life-care. Medical care is provided by medical staff from Rockingham General Hospital and local GPs credentialed with admitting rights. Support services delivered at the hospital include medical imaging and allied health.
Learn more about Rockingham General Hospital (incorporating Murray District Hospital) (external site)
Peel Health Campus
Peel Health Campus (PHC) is a public and private hospital managed in partnership with private provider, Ramsay Health Care Australia Pty Ltd.
It provides a full suite of general hospital services, including a 24-hour emergency department, medical and surgical services, maternity, aged care, rehabilitation, and oncology services.
Learn more about Peel Health Campus (external site).
Peel Health Campus Transformation
In late 2020 the WA Government announced that full operation of PHC would transfer to SMHS from August 2023 on the completion of the current contract with existing private operator Ramsay Health Care.
This is an important step in providing people living in the Peel-Murray region with a range of local health care options. Read more about this transformation project.