Health care snapshot
In 2020/21, SMHS staff provided the following care and treatment: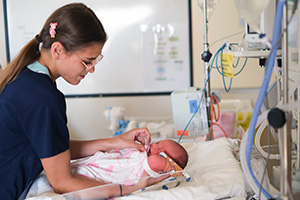 Our emergency departments treated in excess of 218,000 patients. More than 47,000 emergency patients were children aged between 0 and 15 years.
The baby boom continued with more than 5,900 babies born during the year. 63 of these deliveries were multiple births.
More than 173,000 people were discharged from our hospitals during the year.
Our surgical teams performed more than 47,700 elective and 16,300 emergency surgeries.
Our intensive care teams treated more than 2,900 patients.
123 patients had their lives changed by receiving a transplant:

10 heart transplants
15 lung transplants
1 heart and lung transplant
34 kidney transplants
63 bone marrow transplants.

More than 74 per cent of the SMHS workforce received a first dose COVID-19 vaccine, and more than 68 per cent received a second dose COVID-19 vaccine.
Over 84,000 COVID-19 swab tests were completed across SMHS sites. Of those tested at a SMHS COVID clinic, 6 people tested positive to COVID-19.
SMHS COVID clinics completed close to 1,700 COVID-19 swab tests during the busiest day of the year.
More than 179,500 people attended in excess of 825,000* outpatient appointments. In excess of 204,000 occasions of care were provided via telehealth or telephone, collectively saving:

30 million km in travel – or 19 return trips to the moon
495,000 hours, or 20,623 days, or 57 years of travel time
102,000 hours sitting in outpatient waiting rooms
$918,000 in parking costs
$5,568,327 in fuel costs
7,495 tons of CO2 being emitted into the atmosphere
468 hectares – or 275 x Perth stadiums – of forest per year to recover the CO2.
Read our Annual Report to learn more about the scope of our services.
Note
Comparison cannot be made to the outpatient snapshot data reported in the SMHS Annual Report 2019/20. The methodology used continues to be refined, and in some instances a different dataset was used to provide more precise statistics.
* Includes activity for metropolitan wide Rehabilitation in the Home and radiation oncology services.