Mental Health at Fremantle Hospital a rewarding career change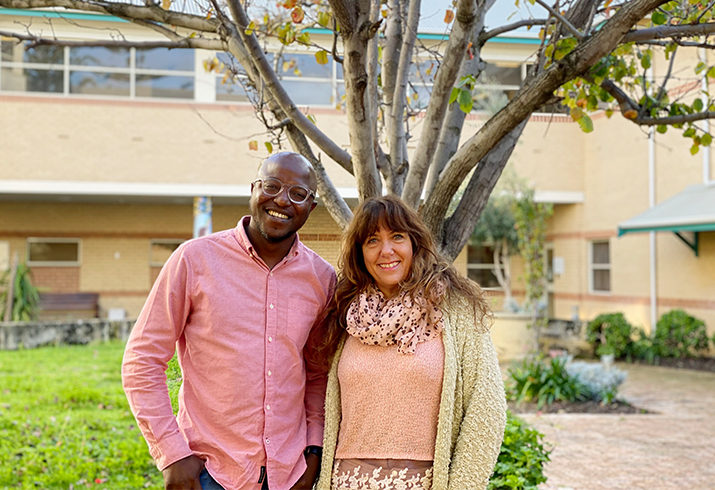 Clinical Specialist Nurse Stanslous (Stan) Mhembere and Nursing Coordinator and Program Manager Jane Murdock
Working in mental health is a rewarding career but throw in a vibrant, historical and coastal location, and Fremantle Hospital (FH) is the workplace to be.
Nursing Coordinator and Program Manager for Adult Inpatient FH Mental Health Service, Jane Murdock, has been a mental health nurse for thirty-five years, fifteen of which she has worked at FH.
On what it's like working in mental health at FH, Jane said it feel like a close-knit community within a hospital, the staff are friendly and it's so close to the centre of Fremantle.
"It's a great place to work, you can walk into town for lunch or just sit by the ocean," Jane said.
"FH as a whole, has the vibe of Freo, it's a happening place."
The FH Mental Health Service provides inpatient and community services to residents of Fremantle, Cockburn and Melville and offers adult services to people aged 18 to 65 years and older adult services for people over 65 years.
The service has recently had a funding boost from the State Government, with an additional 40 beds, staff and services to be implemented by 2024.
Jane said it's an exciting time as it is going to be the largest mental health service in Western Australia and one of the largest in Australia, including community mental health.
"There are, and will be, lots of career opportunities in mental health at FH," Jane said.
"We want our staff to be part of setting the new services up, having a say and to contribute to the design and the model that we are going to be providing in those new services."
The FH Mental Health Service provides recovery-focussed mental health services and works in partnership with consumers and their family or carers, acknowledging that each individual is an expert in their own pathway to mental wellbeing.
"We are contemporary in our practice and are the leaders in our recovery model," Jane said.
FH Mental Health Service Clinical Specialist Nurse Stanslous (Stan) Mhembere said patient-centred support is the pillar of the recovery model and starts from the moment staff meet consumers, their families and carers.
"We want to understand the outcomes our consumers want for themselves, if consumers set their own goals then we know they are more than likely to achieve these goals on their own terms because they are motivated," Stan said.
"We make sure to follow, support and guide our consumers in achieving those goals and by involving other services to continue helping them with their goals.
"That's the main thing we do here, involving consumers in their care."
Stan has been working as a mental health nurse for seventeen years. Fifteen of those years were in the U.K. before moving to Perth two years ago, where he works in the Early Intervention Psychosis (Dual Diagnosis) team at FH Mental Health Service. This service is for young people who have experienced an early episode of psychosis.
"It's a rewarding service to work in because I get to help young people and their families understand that there is hope, that they won't necessarily be part of the mental health system for ever and we are here to help them toward leading a meaningful life," Stan said.
On working at FH, Stan said the vibe is amazing, it has a welcoming atmosphere and it is diverse, which is important to him.
"We have people working in mental health at FH from all over the world, it's reflective of Fremantle which is diverse in its food and culture," Stan said.
"I am passionate about ethnic backgrounds being from Zimbabwe. I find the Aboriginal services at FH amazing, the team there are doing great work, supporting the Aboriginal community and having a positive impact."
There are many roles in mental health at FH currently advertised on the WA Health Jobs Board including nursing opportunities like this Clinical Nurse position (external website) and this Clinical Nurse position (external website), with more roles set to be advertised as the service grows.
Stan said for anyone interested in working at the FH Mental Health Service, they should apply because no day is the same, it's dynamic and the senior team are very supportive.
"It can certainly be challenging but ultimately, it is just so rewarding working in mental health and seeing great patient outcomes," Stan said.
"Of course, it can be stressful – working in mental health brings its own unique challenges. But we come together to debrief and reflect on scenarios and situations, and it's here you see the wealth of skills, knowledge and life experiences which is really enriching, and we all learn from it collectively."
For more information about mental health career opportunities across the South Metropolitan Health Service visit mental health nursing opportunities.
Keep up to date with our news and achievements