Consumer excellence award recognises Aboriginal health care champion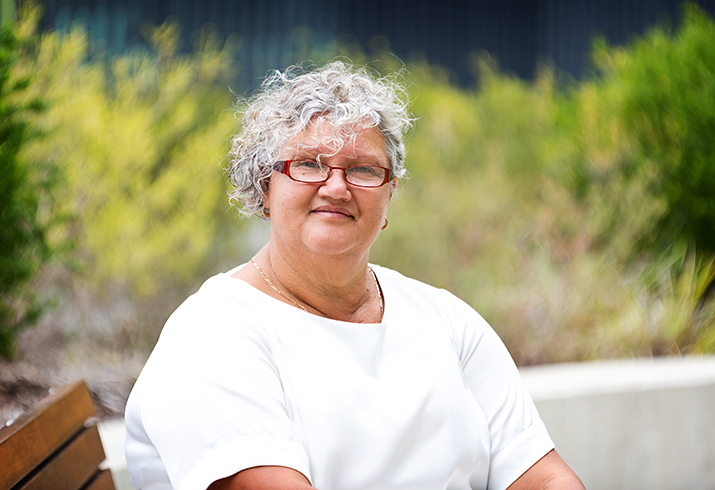 South Metropolitan Health Service Director of Aboriginal Health Strategy, Nola Naylor
The dedication of South Metropolitan Health Service (SMHS) Director of Aboriginal Health Strategy, Nola Naylor, to improving health services for Aboriginal people was recognised at the recent 2021 Health Consumer Excellence Awards.
Nola won the Aboriginal and Torres Strait Islander Award for her commitment to providing person-centred and culturally appropriate care for Aboriginal patients.
The award is presented to an Aboriginal or Torres Strait Islander health professional, consumer, carer, volunteer or organisation that has created real change for Aboriginal people.
Nola has played a vital role developing and implementing numerous Aboriginal health initiatives across SMHS, including the Aboriginal Health Champions (AHC) program.
This program, a first for a WA Health service provider, helps improve health outcomes for Aboriginal patients by increasing the cultural capacity of the SMHS workforce and its engagement with Aboriginal patients.
Nola has also partnered with Aboriginal Health Strategy directors statewide and staff from the Training Centre in Subacute Care (TRACS WA) to prepare an introductory module for health clinicians in Aboriginal person-centred care.
Nola said she was extremely honoured and privileged to receive such recognition.
"This is not a role one can do alone – it's about walking alongside the community in partnership along their health journey," Nola said.
"Working together is essential to reaching our common goal of better health outcomes for Aboriginal people."
SMHS Chief Executive Officer Paul Forden said SMHS was committed to increasing the cultural awareness of all staff with the ultimate goal of improving health outcomes for all Aboriginal patients.
"Nola's tireless commitment to Aboriginal health has contributed to real change across SMHS," Mr Forden said.
"Through regular and ongoing engagement and collaboration with Aboriginal community members, our cultural competency as an organisation has been enhanced, allowing us to provide more effective care for Aboriginal people."
Follow South Metropolitan Health Service on Facebook (external site) and keep up to date with all the latest news across SMHS.