Working at SMHS a family affair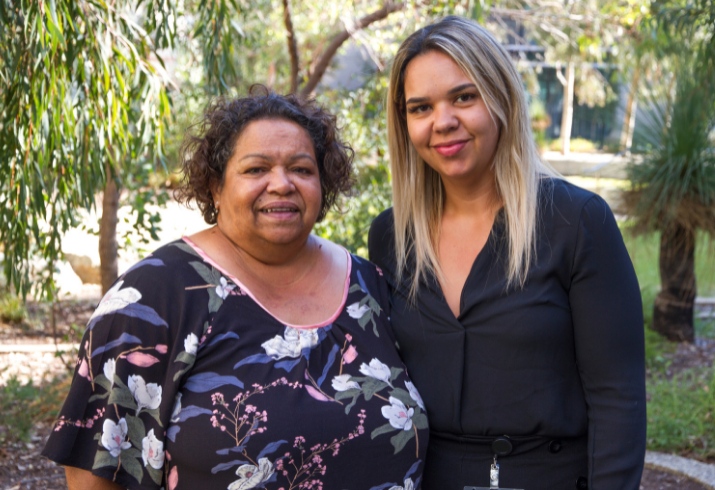 Michelle Sultan and her daughter Hannah Nelson both work in the SMHS Aboriginal Health Strategy team.
Working at South Metropolitan Health Service (SMHS) is a family affair for many of our 9,200 strong workforce.
This Mother's Day weekend, we highlight some of the many mothers and their children employed across SMHS.
Michelle Sultan and Hannah Nelson
Motivated to work in the health sector after the death of her son, Michelle Sultan initially worked as a community representative in a public health role.
Inspired by her mother's commitment to Aboriginal health, daughter Hannah Nelson followed the same university pathway as her mum, joining SMHS in 2013 in a traineeship role at Rockingham General Hospital (RGH).
Michelle joined SMHS soon after and now she and Hannah both work within the SMHS Aboriginal Health Strategy team – Michelle as a senior project officer and Hannah as a project support officer.
"A passion for improving Aboriginal health and wellbeing runs strong throughout our family, and working for SMHS has allowed us to work towards a positive change," Hannah said.
Read more below about other mums whose children work with them at SMHS.
---
Christine Axten and Duncan Axten
Christine Axten, a clinical nurse specialist in consultation liaison psychiatry, has worked at Fremantle Hospital (FH) for 25 years. Her son Duncan is a registered nurse in the RGH Day Procedure Unit.
With both his parents being nurses (dad Robert is a mental health nurse at Bentley Hospital), Duncan had a good insight into nursing as a career growing up.
Finding himself disillusioned with his first career choice, and with some encouragement from one of Christine's nursing colleagues, Duncan studied nursing and accepted a graduate role at RGH.
"Although we work at different SMHS hospital sites and have different nursing specialties, we occasionally liaise together caring for mental health patients at RGH," Christine said.
"The day I checked my professional registration online and saw my name there on the screen between the names of my parents was one of the happiest days of my life," Duncan said.
---
Kathryn Grayson and Bethany Grayson
Kathryn Grayson and daughter Bethany Grayson both work in perioperative nursing, but at different SMHS hospitals.
Kathryn is nurse unit manager perioperative at RGH while Bethany is a perioperative registered nurse at Fiona Stanley Hospital (FSH).
Bethany is also a third generation theatre nurse, as Kathryn's mother Eileen was a theatre nurse in the UK.
"Bethany decided nursing would fulfil her passion for caring for people and she had a keen interest in operating theatres," Kathryn said.
"As we look alike and work with many of the same surgeons, it's not unusual for them chat to Bethany as if she is me, and vice versa."
---
Nicole Katnich and Shae Katnich
Nicole Katnich has worked in multiple roles across SMHS for more than 30 years and is an administrative assistant at RGH.
For daughter Shae, now an emergency department registered nurse, joining her mum in the RGH workforce came naturally.
"When I was young and visited Mum at work in the emergency department I was in such awe of her job," Shae said.
"Mum's work definitely influenced my career choice, and she always highlighted that the hospital's work environment would support my learning and growth as a registered nurse.
"I chose to work at RGH as I knew how much Mum loved the staff and the workplace vibe, and now we get to have weekly lunches and catch ups."
---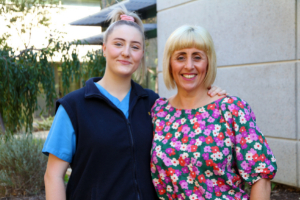 Jo Reid and Katie Reid
Jo Reid joined SMHS in 2005 and is currently a nurse director at FSH.
Inspired by her mother's work, daughter Katie Reid participated in the Get Real Experience and Try (GREAT) nursing program at FSH during high school.
In late 2020, Katie joined her mother as a member of the SMHS nursing workforce and is now an assistant in nursing at FH.
"Nursing is a family tradition – my Mum was a nurse, I am a nurse and now Katie is a nurse," Jo said.
---
Follow SMHS on Facebook (external site) and keep up-to-date-with our latest news and achievements.