Latest episode of Children's Hospital shines the spotlight on Fiona Stanley Hospital theatres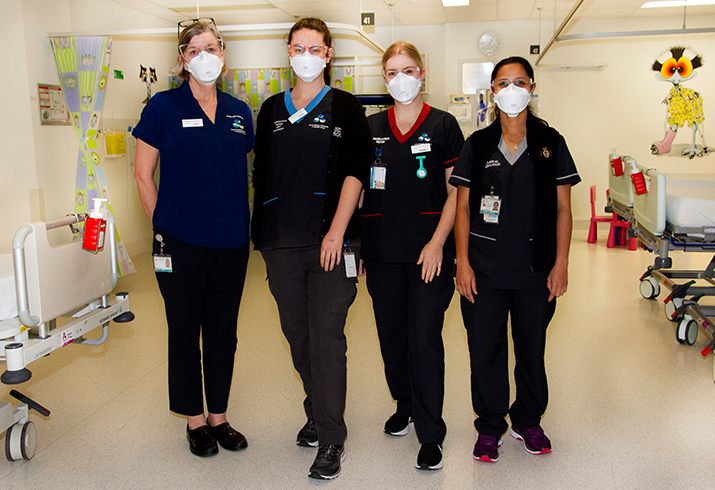 Left to right: Nurses Dawn Tanner, Alana Broadbridge, Cherie Spencer and Nisha Stephen.
In this weeks' episode of Children's Hospital, viewers will be welcomed into the hustle and bustle of Fiona Stanley Hospital's (FSH) operating theatres.
Operating 24 hours a day, seven days a week, 365 days of the year, work in an operating theatre is never finished. The highly-skilled professionals staffing our theatres are no strangers to an extremely fast-paced environment, where they never know what the day (or night) will bring next.
FSH Service 2 Nurse Unit Manager Dawn Tanner, leads the team of nurses who staff the holding bay, where people go to wait for their operation. She explains life in a children's operating theatre, as in Children's Hospital, is very different to in an adult's operating theatre.
"When a child comes into the holding bay, they're often scared and possibly in pain, and even at the best of times children don't like the unknown," Dawn says.
"It's really important for the holding bay to feel and be as safe and friendly as possible, which is why we had a play area installed for children, decorated by local 'Stunned Emu Designs' artist, Wendy Binks.
Nurses and doctors sit and play with children while asking them questions – the child will think they're just playing but will in fact be receiving a thorough assessment.
When the child is ready for their operation, we will also try and make the lead up to the surgery fun – children who are small enough really love being wheeled into the theatre on our toy wagon."
FSH consultant anaesthetist Dr Matt Harper regularly assists in emergency surgery for children with fractures and traumas.
"When I treat children, I focus on their specific needs, paying particular attention to their expectations and understanding of what is happening to them.
It is really important to develop rapport and trust with them and their families to make the potentially scary process of having an operation, as easy and peaceful as it can be for them."
Dawn and Matt agreed one of their favourite things about working with children, is they will say exactly what is on their minds.
"Children have no filter – they'll tell you exactly what they think, even when it's not at all relevant to their visit to the hospital," Matt laughed.
"When people say exactly how they feel, it actually makes our jobs a lot easier."
Dawn continued, saying children's ability to 'bounce back' will never cease to amaze her.
"One minute they will be feeling ill in their hospital bed, the next, they will be insisting they feel all better, and mum or dad will be trying to stop them from running off!"
Episode three of Children's Hospital will feature a young boy who is brought in after having his leg sliced open by a boat proper propeller, an Aussie Rules junior who was at the receiving end of a bad footy tackle, and a teenager who ends up in the operating theatre after falling out a mate's moving car.
Tune into Channel 9 at 7:30pm this Friday, 1 July 2022, to catch the third episode of Children's Hospital. You can also catch up and watch the episodes anytime on 9Now.
Keep up to date with our news and achievements