New Children's Hospital episode pulls back the curtain on medical imaging team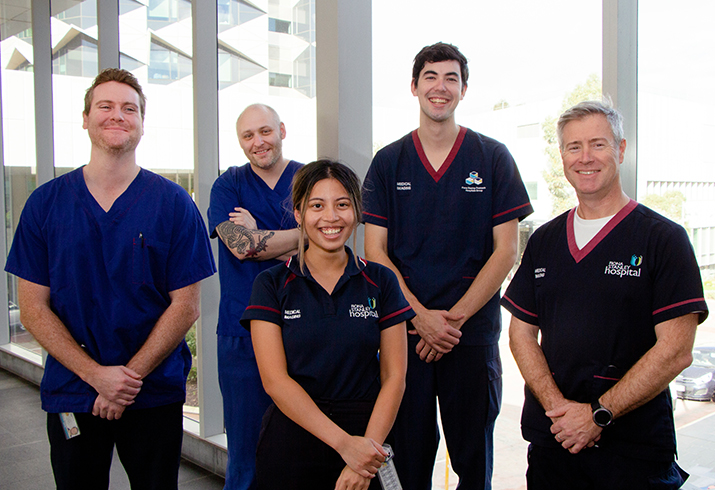 Left to right: Medical imaging staff Simon (sonographer), Chris (senior medical imaging technologist), Stephanie (medical imaging technologist), Stephen (medical imaging technologist) and Matt (senior medical imaging technologist)
After a strong start in the ratings last week, Children's Hospital returns for its second episode tomorrow, Friday 24 June 2022.
This week, viewers will get a peek behind the curtain of medical imaging as the Fiona Stanley Hospital's (FSH) Medical Imaging team use X-Ray to diagnose 13-year-old Junior Aussie Rules player, Jamie's, dislocated middle finger.
Although many of us may not be familiar with the Medical Imaging Department, they are integral to the diagnostics and treatment for many people who walk through the doors of our hospital. If you have ever had an X-Ray, CT scan, MRI, angiogram, mammogram or ultrasound, you have probably been in the hands of the Medical Imaging Department.
In fact, the FSH Medical Imaging team conducted more than a whopping 210,000 imaging examinations in 2021 – that's more than 575 a day!
FSH Chief Medical Imaging Technologist, Gerard Miller, explains a high-quality medical imaging service is paramount to the smooth and safe operation of wards, operating theatres, outpatient clinics and emergency departments.
"Medical imaging plays a vital role throughout the patient health care journey," Gerard said.
"High-quality images are integral for the initial diagnosis, but are also used to guide surgery, measure progress, and finally assess if the treatment has been successful," Gerard said.
In episode two of Children's Hospital, the team are shown capturing images of a teenager's finger – but younger children are not always so compliant.
"The imaging team must find the right balance of fun and distraction, whilst doing their best to build trust and rapport with each child and their family," Gerard laughs.
"It's common for our imaging equipment to magically transform into a spaceship, a carnival ride or an airplane when we are working with the kids. With some imagination, the noises, lights and moving parts can become more fun than scary."
FSH Medical Imaging Technologist Steven Pattinson, who is in four episodes of Children's Hospital, says he is very excited for Australians to learn how medical imaging ties into the patient journey and how important it is for effective treatment.
"I'm thrilled to showcase the great work our team performs on a daily basis and how we adapt to support children during their imaging examinations," Steven said.
"We hope Children's Hospital will highlight some of the amazing technology benefitting our patients at FSH and the outstanding expertise of our team who operate it."
Alongside the FSH Medical Imaging Department and Jamie's dislocated finger, episode two of Children's Hospital will also feature eight-year-old Marcus, who arrives at the hospital in a bad way with his appendix about to burst, and a young girl with a rare bone-growth disorder, who is flown in from a remote town for surgery.
Tune into Channel 9 at 7:30pm this Friday, 24 June 2022, to catch the second episode of Children's Hospital. You can also catch up and watch the episodes anytime on 9Now.
If you missed last weeks' action-packed episode, find it on 9Now. This episode had thousands of Aussies holding their breath for Harper, who had a tumour on her brain removed, and had their hearts filled as they watched little Zavier meet his newborn sister for the first time after coming into the FSH Children's Emergency Department for a boil on his bottom.
Keep up to date with our news and achievements