Health promotion team supporting mental wellbeing for Mandurah locals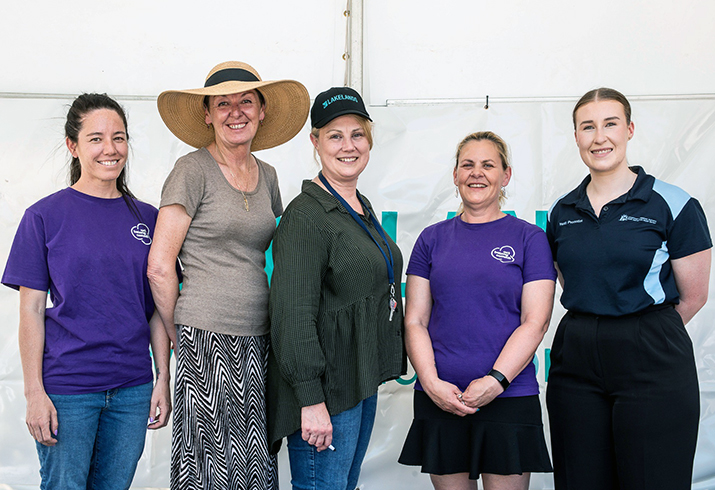 Representatives from Act Belong Commit, Lakelands Shopping Centre, City of Mandurah and SMHS Health Promotion Officer Jessica McCracken (far right) at the Spring into Life event.
The South Metropolitan Health Service (SMHS) Health Promotion team recently celebrated another major success, playing a key role in promoting mental wellbeing for the Mandurah community.
The SMHS team facilitated a formal partnership agreement between Lakelands Shopping Centre and Act Belong Commit (ABC), making the Mandurah-based shopping centre the first in WA to enter into such an agreement with ABC – a leading evidence-based health promotion campaign.
The SMHS health promotion team was instrumental as the project lead, which included establishing a project management group and organising monthly meetings, developing and implementing the project plan, and supporting the 'Spring into Life' community launch event on Saturday 7 October 2023.
SMHS Health Promotion Coordinator, Peter Erceg, explained that supporting and facilitating hospital and community-based prevention initiatives, programs and projects is at the heart of what we do as a health service.
"By strengthening our partnerships with our community, it allows us to expand our impact and build healthy communities in the south metropolitan area," Peter explained.
"As a central hub for the community, shopping centres are in an ideal position to optimise mental wellbeing by providing opportunities for individuals to connect, socialise and engage in meaningful activities.
"Our team continues to partner with shopping centres, tapping into a valuable health promotion setting where we can reach a diverse demographic of people in the community."
This initiative supports the priority for mental health, as outlined in the State's Public Health Plan 2019–24 and the WA Mental Health Promotion, Mental Illness, Alcohol and Other Drug Prevention Plan 2018–2025.
Keep up to date with our news and achievements