Forum highlights inter-agency partnership key for mental health initiatives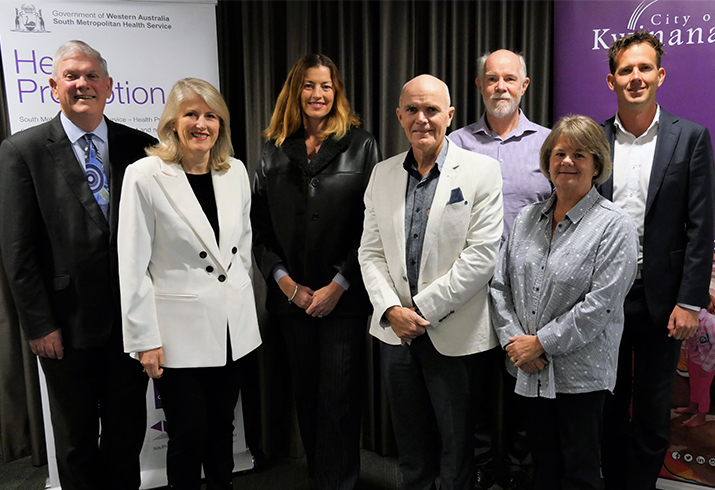 (Left to Right) Mayor Logan Howlett (City of Cockburn), Mayor Carol Adams (City of Kwinana), Katie Gallagher (MHC), Richard Crane (SMHS Health Promotion), Anthony Collier (SMHS Mental Health), Lyn Warren (SMHS Mental Health), Mayor Rhys Williams (City of Mandurah).
South Metropolitan Health Service (SMHS) in partnership with the Mental Health Commission (MHC) and local governments across the region hosted the inaugural Local Government Mental Health and Wellbeing Forum in May.
The forum, attended by fifty people at Kwinana's Darius Centre, facilitated important conversations on ways to collaborate to improve mental health and wellbeing in our local communities.
SMHS Manager Health Promotion, Richard Crane, said inter-agency collaboration was key to creating positive community environments that support mental health and people to adopt and maintain healthy lifestyles.
"The forum allowed for discussion with local government and key agencies on SMHS range of evidence-based mental health promotion and prevention initiatives," Richard said.
City of Kwinana Mayor, Cr Carol Adams highlighted that mental health was not only a health services issue but that local government make an important contribution towards supporting mental health and wellbeing in the community.
"Many aspects of community life such as urban planning, parks and facilities, transport, healthy environments, social support and community participation have an impact on mental health and wellbeing in places where we live, work and play," Cr Adams said.
This innovative partnership between local government, SMHS and MHC is ongoing.
Keep up to date with our news and achievements