SMHS moves forward from the darkest days of COVID-19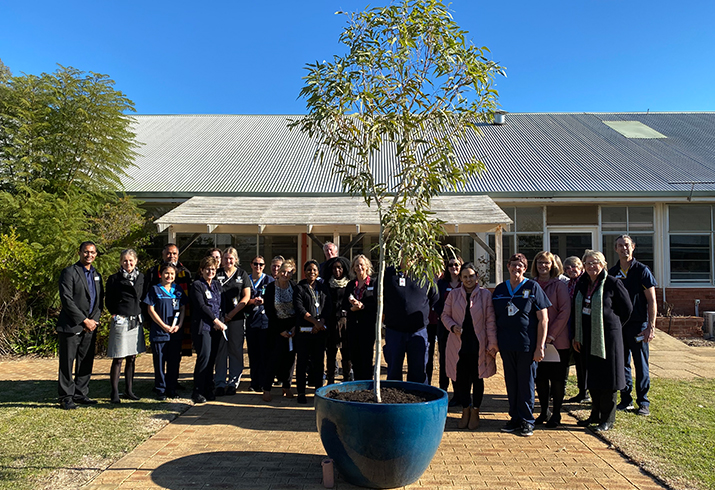 Murray District Hospital staff with Paul Forden, CE, Robyn Collins, Board Chair and RkPG Executives at the COVID Memorial Service.
Staff across South Metropolitan Health Service (SMHS) took time out this week to acknowledge the ongoing impact of COVID-19 on their professional and personal lives and the many sacrifices made to help keep the community safe.
Standing shoulder to shoulder, clinical and non-clinical staff attended memorial tree planting services at all hospital sites, organised by the Fiona Stanley Fremantle Hospitals Group (FSFHG) Pastoral Care team.
FSFHG Chaplain Clare Oudman said the memorials were held on 21 June as it is the winter solstice and the darkest day of the year.
"From this day on, the darkness will begin to let go and light will fill more and more of our days, Clare said.
"Saving lives is part of the everyday work of our healthcare professionals, but over the past year, the whole world looked to this profession for hope.
"The memorials were an opportunity to mourn, grieve and hold close our experiences of the past 18 months, and let go of some of our sadness."
Clare acknowledged the many losses shared by SMHS staff, including missed or postponed celebrations such as weddings, baby showers, births, graduations, birthdays, anniversaries and important cultural celebrations, and lost opportunities to say final goodbyes to loved ones.
"It's okay not to be okay, to grieve our losses, feel our pain and take time to process what these losses have truly meant to us," Clare said.
While Clare is part of the FSFHG Pastoral Care team, she said being invited to participate in services at both Rockingham General and Murray District hospitals was an honour.
"COVID does not respect borders and boundaries, and it was a privilege to share the personal experiences of our staff and show that as a community, we at SMHS stand beside and support each other."
At Fremantle and Fiona Stanley Hospitals Nursing Coordinator Psychiatry Jane Murdoch and Nurse Unit Manager Acute Medical Unit Paula Jeffery stood up and spoke about how COVID-19 had personally impacted them both. At Murray District Hospital Registered Nurse Poonam Khatri Chhetri bravely spoke about how COVID-19 had personally affected her and her family and Staff and Volunteer Culture and Engagement Coordinator Laura Snowball at Rockingham General Hospital shared stories written by staff members about their experiences with COVID-19.
SMHS Chief Executive Paul Forden said while the world had seen the values and virtues of those risking their lives to fight COVID-19; it had not seen their personal stories of loss and disappointment.
"Today's memorials recognise our collective grief and honour the personal memories we carry," Paul said.
"No matter the title you hold, the challenges of COVID-19 have personally impacted us all, and grief, loss and isolation have left their mark."
The FSFHG Pastoral Care team plan to hold future memorial services on the winter solstice as a symbol of hope.
"I am not sure what the next 12 months will bring, but I know that whatever it is, across SMHS our staff know they are not alone," Clare said.