Google glasses cause a buzz amongst hospital staff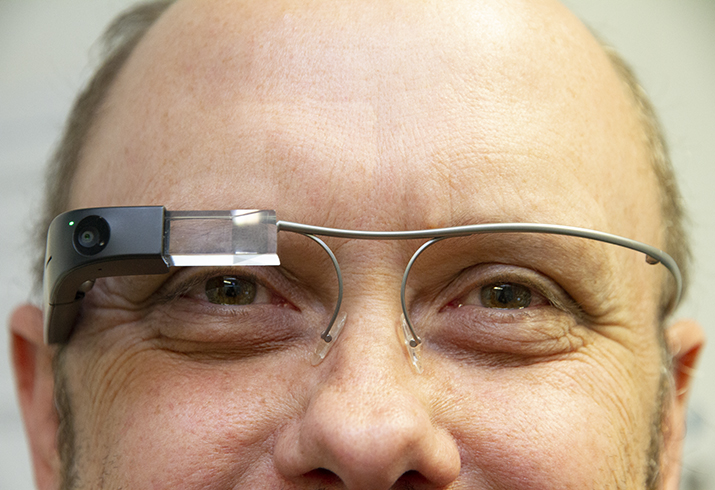 Above: Nurse Unit Manager of the Fiona Stanley Hospital Burns Unit Ben White with the Google glasses. Below: Ben with GovernancePlus consultants Sandy Thomson and Kylie Kreusser
Ever-changing COVID-19 restrictions around the country have provided an opportunity for South Metropolitan Health Service (SMHS) to explore new and innovative technologies.
Google glasses were used by the Safety Quality and Risk team for the first-time last week to remotely conduct a 3-day review across the Fiona Stanley Fremantle Hospitals Group (FSFHG) with GovernancePlus who had one of the three surveyors based in Melbourne.
With travel restrictions in place, the Safety Quality and Risk team and surveyors from GovernancePlus had to use the new technology to continue with the planned review at FSFHG, in preparation for the June 2022 accreditation survey.
Google glasses look like a pair of safety glasses. The arm has inbuilt computer technology including WIFI, microphone and speaker all via a touchpad system. The small screen built into one lens enables the person wearing the glasses to see the remote consultant on the screen via Zoom. The front of the frame has a camera which enables the remote consultant to hear and see what the person wearing the glasses is saying and seeing in real-time.
Manager Patient Safety and Quality Marjorie Cameron said it caused a bit of a buzz amongst staff.
"We were excited to trial the glasses and familiarise staff with the new technology which could be used in so many different areas across the health service."
"The 3-day remote review was a complete success. There were no delays, and everyone involved thoroughly enjoyed the experience," Marjorie said.
"In fact – staff were disappointed when the glasses were not used in their areas."
The Safety Quality and Risk team and GovernancePlus are organising further sessions with those areas to demonstrate the use.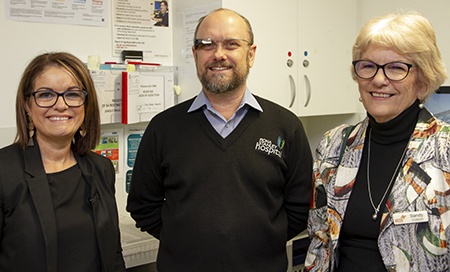 Nurse Unit Manager of the Burns Unit Ben White said he was really impressed with the Google glasses.
"It was like I was walking side by side with the remote consultant having a conversation. Honestly, it's pretty ground-breaking."
Ben said he can see the technology being used in the Burns Unit and across health to improve the patient experience with less clinicians having to be physically at the bedside of a patient.
"Ward rounds could be streamlined with a team of two or three in the room instead of the whole multi-disciplinary team reviewing a patient who has just woken up, trying to eat breakfast. The rest of the team can then remote in for a real-time discussion with the patient."
With COVID-19 restrictions possible at any time, Marjorie said it was great opportunity to trial technology that may be required to be used in future accreditation survey reviews.