SMHS researchers on display at Fiona Stanley Hospital entrances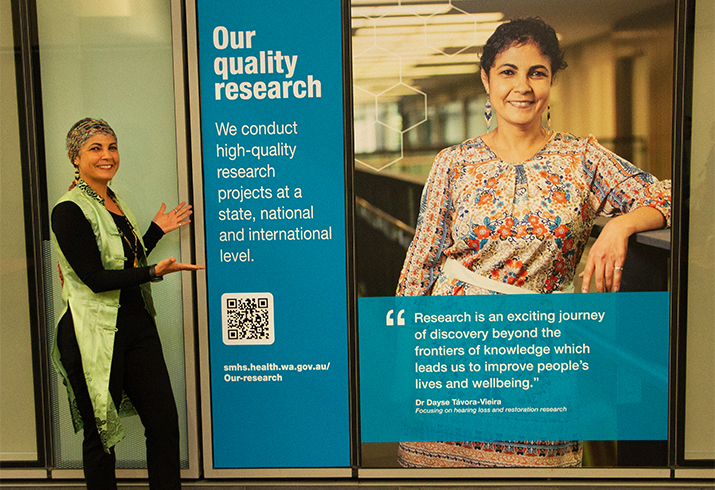 Head of Audiology Dr Dayse Tavora-Vieira stands beside one of the research panels
Fiona Stanley Fremantle Hospital Group's Head of Audiology Dr Dayse Tavora-Vieira is now seeing double when she walks through the hospital concourse.
Dayse, the inaugural South Metropolitan Health Service (SMHS) Researcher of the Year in 2019, is one of seven SMHS researchers on permanent display on glass signage along the south and east entrances to the Fiona Stanley Hospital (FSH) concourse.
SMHS Head of Research and Development, Melanie Wright said the signage aims to build awareness of the high quality medical, nursing and allied health research being done right across the service to improve patient care and outcomes.
"We also conduct state, national and international clinical trials and sometimes a clinical trial can be a patient's last hope of treatment," Melanie said.
"Research drives improvements in patient care by developing new treatments, enhancing clinical practice and fostering better knowledge and understanding."
The signage is another step in promoting our reputation as a great research hospital amongst staff, patients and the community and is hoped to be replicated across other SMHS sites.
Keep up to date with our news and achievements