Fiona Stanley Hospital proudly stars in new internationally-broadcast TV series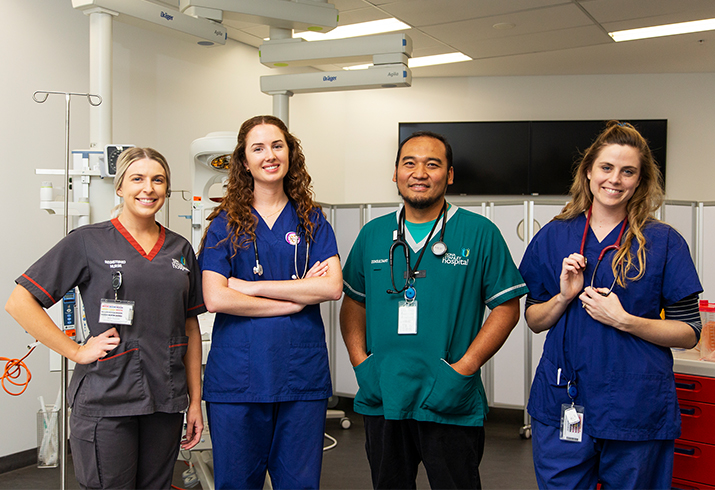 Left to right: Nurse Nicole with doctors Deirdre, Mohd and Tara
Following its UK broadcast earlier this year, Children's Hospital will make its Australian debut on Channel 9 at 7.30pm this Friday.
Across Australia viewers will watch some of the life-changing work done in the emergency department and paediatrics wards every day at Fiona Stanley Hospital (FSH) and Perth Children's Hospital (PCH).
Filmed at South Metropolitan Health Services' (SMHS) FSH and Child and Adolescent Health Services' (CAHS) PCH, the eight-part documentary series showcases the incredible care we provide to Western Australia's children and their families through an insightful, uplifting and sometimes humorous lens.
FSH Head of Paediatrics Doctor Janine Spencer said she hopes this documentary series will show audiences a snippet of the outstanding paediatric care we provide.
"The documentary will showcase the unique issues we see children present to hospital for and the high-quality healthcare we provide to children every day at FSH," Janine said.
"I am proud to show not only our community, but also international audiences, the high-standard of care and extraordinary outcomes we achieve in paediatrics."
FSH Head of Emergency Medicine Doctor Vanessa Clayden said a day in the emergency department of any hospital can be dynamic and stressful, but when emergencies involve children, it adds a whole other level of complexity.
"Healthcare workers are not only working to help the child, but also supporting families who are understandably under a lot of stress and afraid for their child's wellbeing," Vanessa said.
"I know Children's Hospital will not only demonstrate the variety of injuries and concerns we manage in paediatrics, but also show how our healthcare workers do so much more than just treat patients.
"The documentary will show FSH for what it is – an excellent healthcare facility on an international scale."
Executive Director Fiona Stanley Fremantle Hospitals Group Neil Doverty thanked everyone who took part in the series and Prospero Productions for delivering a documentary which is respectful and reflective of what we do.
"I know all those involved in the documentary will be very proud – their unwavering commitment and compassion is evident throughout the show," Neil said.
"I hope audiences throughout Australia and internationally will not only associate FSH with being a great hospital, but also interest healthcare workers in SMHS as a potential employer."
The first episode of Children's Hospital will feature a child who was helping her dad clean gutters when she fell through the roof and badly injured her back, a golf-ball-sized brain tumour in a young girl's brain and a three-year-old who pushed a bead up her nose.
Tune into Channel 9 or 9Now at 7:30pm this Friday, 17 June 2022, to catch the first episode of Children's Hospital.
Keep up to date with our news and achievements