Digital platform set to TRANSFORM COVID-19 research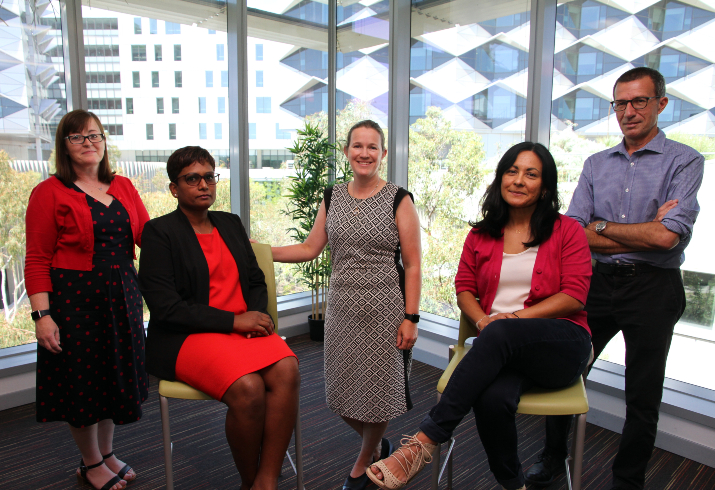 Left to right: Melanie Wright (SMHS Head of Research and Development), Sarala Matthews (SMHS Project Officer), Professor Merrilee Needham (SMHS Clinical Director of Research), Vidya Finlay (SMHS Clinical Trials Coordinator) and Glenn Boardman (SMHS Data Analyst).
South Metropolitan Health Service (SMHS) Clinical Director of Research, Professor Merrilee Needham, is committed to building for the research future through a digital statewide research platform known as TRANSFORM.
To help establish the platform, the project was recently awarded $880,000 from the State Government's Future Health Research and Innovation Fund.
"TRANSFORM will invigorate the research experience for COVID-19 patients and researchers, and streamline WA Health research ethics and governance submissions for data-related projects," Professor Needham said.
"A main asset of any hospital is the quality of its data, so by improving data access and integration to enable research and innovation we can also transform patient care."
The project involves building the digital infrastructure to streamline access to high quality real-time prospective data on COVID-19 positive patients, and other cohorts of patients, wherever they are within WA Health.
The platform will facilitate clinical research projects from both established and new researchers across medical, nursing and allied health fields, as well as increase opportunities for patient engagement.
"The COVID-19 pandemic has highlighted the importance of research, with unprecedented global collaboration resulting in improved understanding of the risks of COVID-19 including who is at risk, how to best manage it, and of course, the development of multiple vaccines to help the world emerge from this pandemic," Professor Needham said.
"Through TRANSFORM, we hope to drive a research platform that we can first use for COVID, but that will help drive consistency around structured data collection in WA Health for the purposes of clinical care, safety and quality as well as research and innovation.
"This is not my grant alone, it is a team effort, and I'm very fortunate to have such an incredible team here at SMHS who are helping to drive this project forward with executive support.
"The collaboration and support from research directors at all the other Health Service Providers was also absolutely instrumental in driving this project."
Professor Needham said research was necessary to continually improve the way patients were diagnosed and treated.
"I'm passionate about highlighting the role of research in clinical practice, to be able to offer patients the best care possible, and above all - hope.
"Hope that they can actively contribute to improving their own care, as well as for other people in the same position."
TRANSFORM was among 18 projects tackling health and wellbeing challenges related to COVID-19 across Western Australia to be funded by the research grant.
Follow South Metropolitan Health Service on Facebook (external site) and keep up to date with all the latest news across SMHS.