SMHS proud to engage Aboriginal businesses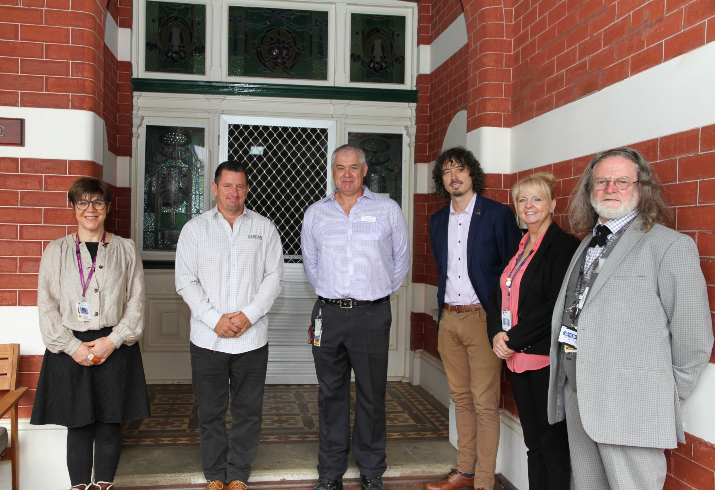 The SMHS Aboriginal Procurement Policy team with Kardan Construction representatives
South Metropolitan Health Service (SMHS) is proud to be not just meeting but exceeding the target of awarding a percentage of contracts to Aboriginal businesses.
Under the Aboriginal Procurement Policy (external site) (APP), all government departments were required to award 3 per cent of all contracts to registered Aboriginal businesses in the 2020/21 financial year and 2 per cent in the 2019/20 financial year.
SMHS has awarded more than 6 per cent of contracts to Aboriginal businesses in the last financial year, demonstrating the commitment to engaging Aboriginal businesses.
Building company, Kardan Construction, is just one of the Aboriginal businesses engaged by SMHS under the policy.
Kardan Construction was selected to complete a $500,000 refurbishment of the premises for the Hampton House mental health service, and has completed several other projects for Fremantle Hospital.
Fremantle Hospital's Campus Facilities Manager, Bill Clark said Kardan delivered the refurbishment on time and budget, was helpful and easy to work with, and went above and beyond on several occasions.
"The service is delighted with their new premises refurbished by Kardan, which had been vacant since 2015," said Bill.
A Director of Kardan Construction, Noongar man Frank Mitchell, said they were very happy to contribute their services to the redevelopment of the mental health facility.
"Mental health and social and emotional wellbeing amongst Aboriginal people are a huge concern, so it was rewarding for everyone from Kardan to be involved in this project," said Frank.
SMHS Area Director, Infrastructure, Facilities Management and Health Support Services, Mark Stokoe and his team were integral in implementing the APP.
"SMHS engages Aboriginal businesses not just to meet the APP requirements, but because Aboriginal people make up a large proportion of our patient cohort, and it is important our whole service reflects this," he said.
In addition to the contract with Kardan Construction, SMHS has also engaged Tjuart Architects to provide consultancy for the carpark extension at Rockingham General Hospital and CareyMC Pty Ltd to supply and install transportable buildings at Peel Health Campus.
Follow South Metropolitan Health Service on Facebook (external site) and keep up to date with all the latest news across SMHS.